World Antimicrobial Awareness Week 2022
Antimicrobial resistance (AMR) occurs when bacteria, viruses, fungi and parasites change over time and no longer respond to medicines, making infections harder to treat and increasing the risk of disease spread, severe illness and death. As a result of drug resistance, antibiotics and other antimicrobial medicines become ineffective and infections become increasingly difficult or impossible to treat.
A global action plan to tackle the growing problem of resistance to antibiotics and other antimicrobial medicines was endorsed at the Sixty-eighth World Health Assembly in May 2015. One of the key objectives of the plan is to improve awareness and understanding of AMR through effective communication, education and training.
World Antimicrobial Awareness Week (WAAW) is a global campaign that is celebrated annually to improve awareness and understanding of AMR and encourage best practices among the public, One Health stakeholders and policymakers, who all play a critical role in reducing the further emergence and spread of AMR.
This year, the theme of WAAW is "Preventing Antimicrobial Resistance Together." GARDP's #PowerofAntibiotics campaign is raising awareness of the growing threat of drug-resistant infections. The campaign is calling for urgent attention, action and funding to accelerate the research and development of lifesaving antibiotics.
Help us spread awareness of the urgent need to develop and make available lifesaving and lifechanging treatments for drug-resistant infections.
Celebrate World Children's Day – "Inclusion, for every child," Sunday 20 Nov.  
Worldwide, 1 in 5 deaths caused by antibiotic resistance occurs in children under 5. Read the story of Prudence Nakato and her son Orum Mukasa, who battled sepsis as a newborn in Uganda. Orum Mukasa battled sepsis as a newborn in Uganda. Today he is a happy and healthy two-year-old.
Join us for a GARDP webinar
GARDP is raising awareness on trams and buses in Geneva, Switzerland.
Learn about innovative agreements to expand antibiotic access 
On 21 November, the World Intellectual Property Organization published a guest article by GARDP, Shionogi Inc., and the Clinton Health Access Initiative on voluntary licensing to expand antibiotic access.
Watch the new AMR film
The international premiere of "Silent Pandemic: The Global Fight against Antimicrobial Resistance" will take place 21 November in New York. To view the trailer and register, visit: https://antimicrobialresistancefighters.org/events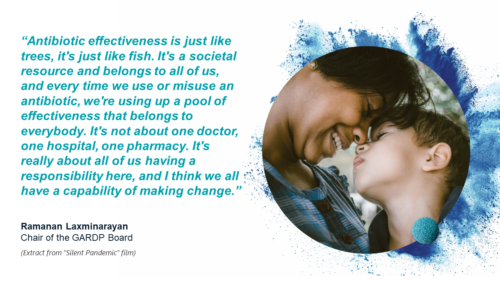 Race against antimicrobial resistance with the AMRelay on Thursday, 24 Nov., 0:00-24:00 UTC.
This 24-hour event involves diverse short contributions from those who help curb antimicrobial resistance around the world. Tune in 20-20:15 UTC (21-21:15 CET) for GARDP's contribution, "Driving antibiotic development and access."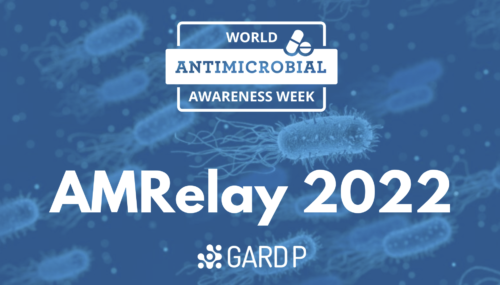 Read about AMR prevention strategies 
Rachael Osagie, senior academic lecturer and researcher in the Department of Medical Microbiology, College of Medical Sciences at Ambrose Alli University, Nigeria, offers her viewpoint on, "Learning from infection prevention and control strategies for COVID-19 to mitigate AMR in rural Nigerian communities." Read here.